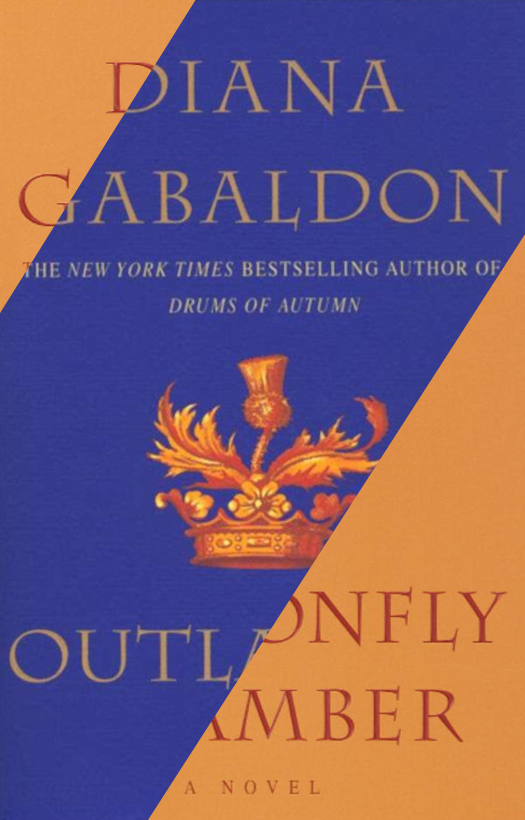 Outlander & Dragonfly in Amber by Diana Gabaldon
Bantam Books
896 & 743
1992
Outlander (Book 1 & 2/?)
The year is 1945. Claire Randall, a former combat nurse, is just back from the war and reunited with her husband on a second honeymoon when she walks through a standing stone in one of the ancient circles that dot the British Isles. Suddenly she is a Sassenach—an "outlander"—in a Scotland torn by war and raiding border clans in the year of Our Lord...1743.
Adapted from: GoodReads
---
Have you ever wondered what life was like 300-something years ago? By that I mean, really wondered about it all, not just watched some poorly-crafted youtube video about 18th Century hygiene (or lack thereof) and gave it some thought just long enough for the next video to buffer. Did you ever try to imagine the smell, the people, the food, the sounds?
Imagine this:
What if overnight you suddenly found yourself on the exact same spot, wearing the same thing but in the 1700's? Imagine how your sweats and messy bun would look to the people who you just appeared in front of - that is if the area was developed enough at the time to even have a human presence - or would you be greeted by a fuzzy, not-so-cuddly pack of wolves? You would be a little culture-shocked even if those strangers happened to be your direct ancestors, the speculative great-great-etc cousin twice removed, that you have probably never heard of but from whom you suspect you got your awful nose from.
The whole notion seems insane doesn't it? Yet, that is exactly what Diana Gabaldon in her Outlander series has achieved. The story of love, all kinds of love - the love of family, of country and most of all of timeless love. Yes, cheesy I know. But what would a historical novel be without a strong, passionate love story?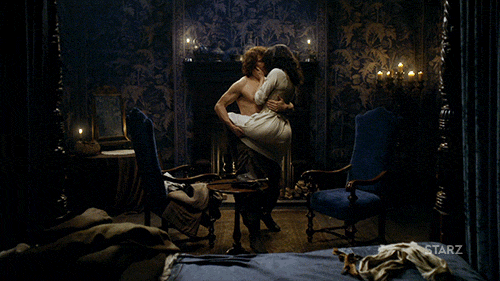 In the first book, Outlander, Claire Randall, an English, former combat nurse of WWII is visiting the Scottish Highlands with her husband in 1945 when she accidentally finds herself transported back in time to 1743 thanks to an old Scottish legend. She is then caught up in a whirlwind of actions by forces she struggles to understand. Stuck in an English-invaded Scotland polarized by clan feuds, she quickly finds herself surrounded by people who regard her sudden appearance and English accent with high suspicion. Thought to be a spy for the enemy, Claire must learn to navigate the political scene in a country that speaks a foreign language - and fast, if she is to avoid the noose! Using her medical training, she finds a way to adapt 20th Century medicine to 18th Century superstition and customs and makes herself an accepted member in Castle Leoch, home of the MacKenzie Clan. Her biggest challenge yet leads her into a forced marriage with the handsome Jamie Fraser, a young outlaw with a price on his head, whose sworn enemy is Black Jack Randall - the direct ancestor of Claire's modern-day husband…what?! This is a story filled with kilts, conspiracies, treason, poison, witch trials, last-minute life saving decisions that would never happen in real life, unreasonable amounts of alcohol consumption, and - of course, because it's historical fiction - loads of passionate love making in lush green fields.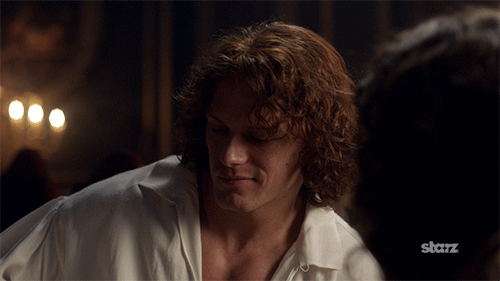 The second book of the series Dragonfly in Amber, is even more political. Using Claire's scant historical knowledge, she and Jamie travel to France in order to stop the imminent Jacobite Rebellion of 1745 that will decimate the highland way of life, secure English rule over the country and end thousands of Scottish lives. They do so by going straight to the root of it, Bonnie Prince Charlie and the French court. More political than the first book but not any less exciting, Claire and Jamie have to use every chance they get to foil the plans for the rebellion. Despite all their plotting, they find themselves unsuccessful and will be forced by a series of events to return to Scotland to actually aid the Bonnie Prince in a last desperate attempt to win the rebellion they tried so hard to stamp out. Filled once again with scheming political maneuvers, poison and an ungodly amount of alcohol consumption, it also has the added benefits of orphans, nuns, royal affairs, illegitimate children and, yes, even the Pope.
More than that, this book has the new dimension of what appears to be a self-fulfilling prophecy. Much alike most time traveling books, there is always that "what if" dimension. Was Claire always meant to have been there? Can her actions actually change history? If so, how? What if, Claire and Jamie were always meant to dwarf all attempts at raising capital, men, etc to avoid the inevitable rebellion and by doing so are the very reason it failed? What if…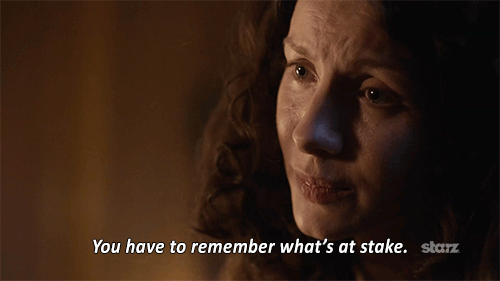 These books are entertaining in all aspects. They are undoubtedly what I would call political thrillers, well researched portraits of the times, and classic love stories. But they are also the beautiful portrayal of the meeting of two worlds. On multiple occasions these endearing highlanders will have a hard time understanding the fiercely independent and bold Claire, a 20th Century woman through and through, and a sharp contrast to the women of the 1740's. Still, it is not all business and no fun, with irresistible characters such as the dominant Mrs. FitzGibbons, and little Fergus and Murtagh, there is a much needed comedic relief to offset all the plotting.
Still, one of Gabaldon's biggest achievements in this book is no doubt her portrayal of human nature. These characters develop tremendous depth, each with their own stories, which makes them appear so real. Even the vile Black Jack Randall will redeem himself in your eyes, even if just a little. As for Jamie and Claire, they are not perfect samaritans either, they are a realistic couple - who just really like sex - with their character flaws and weaknesses. No characters are too idyllic, they are simply human.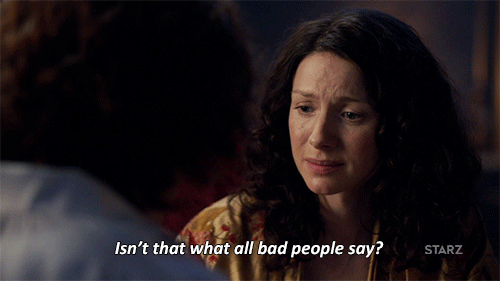 In fact, the series is so well written that a show was made. Now, I did watch the show prior to reading the books - don't judge me! - and I must say it was well executed. Of course, as is the case most of the time, the books are much better than the show. Note that the TV series has taken some creative liberties with the chronological events of the story, some bits are totally made up too, but as far as TV adaptations go, this one is rather well-made.
Yes, this series might sound like a cliche, no doubt some elements of it are - tear jerker moments, impossible heroic feats - but as a historical fiction junkie, this is one of the rare ones, an absolute must read.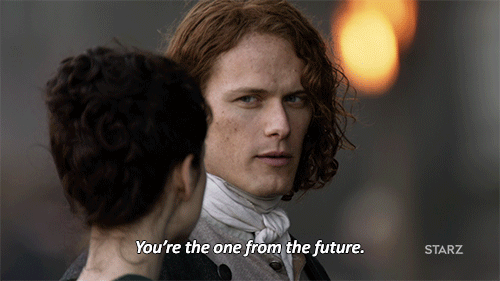 All gifs above are sourced from Giphy using images from the show Outlander, produced by Sony Pictures Television