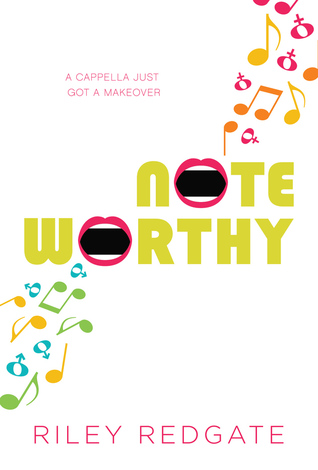 Noteworthy by Riley Redgate
Amulet Books
294
May 02, 2017
It is the start of her junior year at the Kensington-Blaine Boarding School for the Performing Arts. Unfortunately, Jordan Sun is an Alto 2, which in the musical theatre world is sort of like being a vulture in the wild. So, no surprise, she gets shut out of the fall musical for the third year straight. Then, a spot opens up in the Sharpshooters, one of the elite a cappella groups at Kensington. Worshiped ... revered ... all male. Desperate to prove herself, Jordan auditions in her most convincing drag, and it turns out that Julian Sun, Tenor 1, is exactly what the Sharps are looking for.
Adapted from: GoodReads
---
Imagine a book that is on the surface She's the Man meets Pitch Perfect – great premise, right? Well, now add in some really neat meditations on gender identity and beautifully sincere moments of empathy and you've got a good idea of how awesome Noteworthy is! I would recommend this book to anyone looking for a fun read with some really valid truths scattered throughout!
Book Breakdown
Jordan Sun, the protagonist of Noteworthy, is a junior and an average kid at her arts high school; she has never been cast for lead roles and feeling discouraged and reckless, boldly disguises herself as a male version of herself, a persona she calls Julian, in a scheme she is mostly sure won't fool anyone. But, turns out people are very happy to see what they want to see. And so, Jordan-as-Julian experiences and reflects on the differences between males and females, their interactions, their characters, their postures, and ways to show they care, etc., all while trying to imitate this foreign way of being and pass it off as natural. It's a task-and-a-half and Jordan's funny, sassy, compassionate, level-headed, but also inquisitive, nature make her a fantastic narrative voice! Jordan is an awesome character and it was a joy to watch her recognize SPOILER: and grow comfortable in her bisexual identity.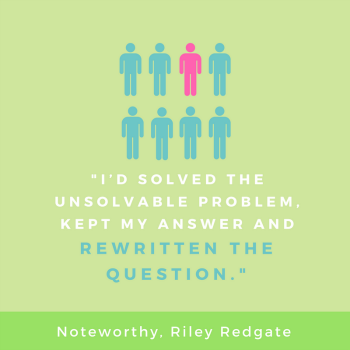 Plot aside, the characters in Noteworthy are beautifully diverse in terms of personality, sexuality, race, and socio-economic background. Author Riley Redgate does an amazing job of giving all the characters true-to-life backstories. These in turn allow the reader to gain insight, briefly, into the lives of others and some of the common struggles people navigate and learn to embrace, over-come, or cope with, including sexuality, learning disabilities, wealth/poverty, insecurities, and managing family expectations (good and bad).
Overall, this novel is an enjoyable story of friendship; a fascinating portrayal of both individual and collective identity journeys and the formation, strengthening, and testing of the bonds of friendship.
In my Opinion
A few things I really loved about this book were the moments of empathy that Redgate creates throughout the novel – giving the reader glimpses into the challenges some of the side-characters face in such a way that was genuinely refreshing. The inclusion of musical terms and concepts, in the content of the novel as well as its organization was both enough to seem believable as an a capella novel, and still accessible to non-musical readers. And the many themes of friendship explored in this novel among friends, lovers, family, are all so well explored for such a short novel, I was pleasantly surprised!
The novel spans one semester, September to December (approximately), as such, the plot moves along at quite a good pace, which I generally liked, but sometimes that speed causes the story to feel a bit choppy. Additionally, we the readers are introduced to many characters in a short span of time at the beginning of the book, some of which turn out to be less important than others, it's a bit of a whirlwind at first keeping track of everyone. My last little qualm with the novel relates to SPOILER: when Jordan reveals to everyone that she has been disguising herself has Julian to her peers, school, parents and other people around her. When this happened, I was of course rooting for it all to go well, but it seemed a little too easy, everyone took it a little too well. Had I received such news, I think I would have needed a bit more time to process it, and would have asked a lot more questions than the book characters did, most of them accepted it almost too casually, it felt a bit unreal. Though I really liked how everything ended overall, I just think it could have gotten there a little slower, I guess!
Final Thoughts
I'm noticing that many YA novels have pretty explicit passages of honest explorations of universal themes on friendship, identity, purpose, etc.; this seems to be becoming quite common and I love it! I have always believed that a lot can be extrapolated from YA novels in terms of valuable life lessons, but it feels like lately this is becoming even more overt and I find that really wonderful; I think it prompts the readers to reflect on these points in their own lives as they read, giving additional depth and worth to the YA reading experience.
What do you think? Have you noticed this as well? What books have you read lately that have some seriously truthful messages or reflections on behalf of the main character that just feel super real and applicable to life?