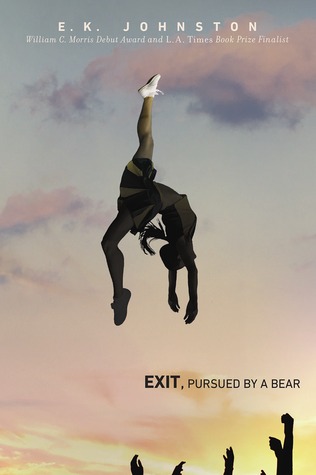 Exit, Pursued by a Bear by E.K. Johnston
Dutton Books for Young Readers
248
March 15, 2016
Hermione Winters is captain of her cheerleading team, and in tiny Palermo Heights, this doesn't mean what you think it means. At PHHS, the cheerleaders don't cheer for the sports teams; they are the sports team—the pride and joy of a tiny town. The team's summer training camp is Hermione's last and marks the beginning of the end of... she's not sure what. She does know this season could make her a legend. But during a camp party, someone slips something in her drink. And it all goes black.
Adapted from: GoodReads
---
I first heard of Exit, Pursued by a Bear from a fellow Toronto Blogger, Amanda (aka Mother of Penguins aka Brains, Books and Brawn). She was very passionate about how much of a must-read this book was (as well as everything else by E.K. Johnston), and I was intrigued. Good recommendations, plus Johnston is a Canadian author, so on my last Chapters visit, I decided to pick it up. I knew going into it that the content was intense (the story after all is about a rape survivor's life after the fact), but I don't think I was prepared for how deeply this book would shake me.
Now I need to premise this with the fact that I've never been raped, because I think that if I had been, this book would have been harder to read. I want to make sure that I'm up front about that, because I have seen how devestating it can be to have something trigger those memories after the fact. I don't by any means want my recommendation to do that to someone. That being said, I think that E.K. Johnston handles the topic in a very sensitive, but honest, raw way.
One of the things I loved most about the story was the friendship between Hermione and Polly. These are two girls who would go to the ends of the world for each other, and nothing pulls them apart. Polly's fierce support of Hermione in the aftermath is something that I would want everyone going through this to have. The unfortunate reality is that many people don't have the same support systems that Hermione does, and that is perhaps my only critique of the story: how realistic is this support? That being said, there is absolutely no 1 size fits all for how things go after a sexual assault, so this very well may have been some peoples' experiences. I really hope that anyone who goes through it is able to find a support system, whatever that looks like. No one should be sexually assaulted in the first place, but it breaks my heart when I hear survivors talking about how isolated they felt n the aftermath. No one should ever feel like it is their fault or that they can't get help.
One part that really hit me was [Spoilers: the abortion chapter. A woman's right to choose as well as access to safe clinics is something that I feel very passionately about, and it's personal to me for many reasons. I was in a park when I read this chapter and was a bawling mess. But even though I was having a meltdown on a park bench, the scene was everything that I needed it to be.] My biggest regret is not reading this book sooner. I actually met Johnston last August at a Chapters Indigo event, and wish that I could have told her in person how much this book meant to me. For now, I'll just continue to send her love letters on social media.
So the short of it is this: This story is an amazing look at the power of friendship and the strength of women, but it is also an honest look at rape and sexual assault. If these are topics that you find difficult to read about, then you should probably not pick this one up.
Just please know that it is never the survivor's fault. If you or a loved one is going through this, there are supports and resources available to you. I've listed a couple below for Canada and the United States.
Stay strong bookworms, and keep reading <3
Olivia
Canada
The Canadian Association of Sexual Assault Centres
Kids Help Phone + their hotline: 1-800-668-6868
Ontario Coalition of Rape Crisis Centres
United States
Rape, abuse and Incest National Network who operates the National Sexual Assault Hotline + their hotline: 1-800-656-HOPE