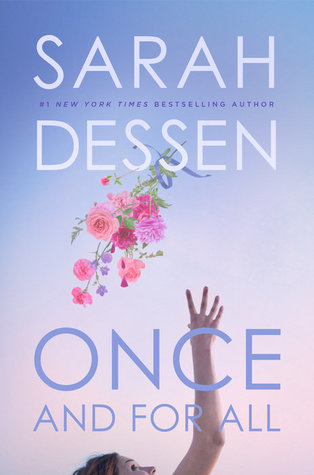 Once and For All by Sarah Dessen
Viking
357
June 6, 2017
Louna, daughter of famed wedding planner Natalie Barrett, has seen every sort of wedding (on the beach, at historic mansions, in fancy hotels and clubs). Perhaps that's why she's cynical about happily-ever-after endings, especially since her own first love ended tragically. When Louna meets charming, happy-go-lucky serial dater Ambrose, she holds him at arm's length. But Ambrose isn't about to be discouraged, now that he's met the one girl he really wants.
Adapted from: GoodReads
---
Sarah Dessen fans will not be disappointed with this book, it is a solid contemporary YA read – cynicism about love, enemies with chemistry, restoring hope to the hopeless, and all this develops among oh-so-the ironic setting of the wedding planning world.
Note: Note: This review is based on an uncorrected text of Once and For All by Sarah Dessen.
Book Breakdown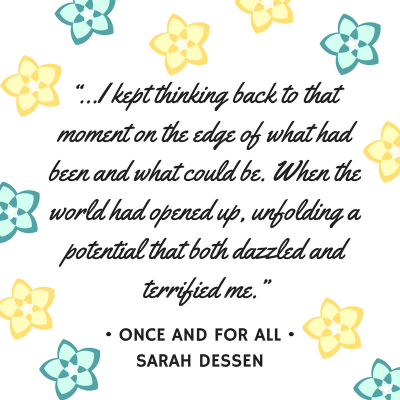 Louna is a good girl, she helps her mom and William with their business, she is a good friend to her bestie Jilly, she is on the quiet side, but she is a gem, and she has been burned by love in the worst way possible. SPOILER: No bad break-up, no falling out of love, no cheating, her loved one was taken from her. Her hesitation to love again is two fold, she's not sure she is ready to move on, and also after such a perfect first love she is worried no one will measure up – both valid concerns. Which makes it all the more perfect when Ambrose is so wildly different from Ethan, there is initially just no comparison. But as the story unfolds we see they both are compassionate, both are loved by he people around them, and both want to respect, protect and care for Louna.
This story is about love and the many ways we find, avoid, discover, search for, rediscover and ultimately are won over by it every time! ;)
In my Opinion
Contemporary YA romance is not known for having super original plots, and that's okay, the beauty of the story lies therefore more in the author's ability to tell it the little ways they can bring a fresh perspective to the usual "boy-meets-girl, love to follow" story. Dessen does this by adding depth to her story, or rather Louna and Ethan's story. While I have never experienced the kind of loss Louna goes through, Dessen paints a poignant picture of the struggle to accept, adapt, and mend after such an impactful happening; good authors entertain, great authors entertain and share meaningful messages.
I also admire Dessen's ability to write such pleasant side stories in this novel. While Louna and Ambrose are the main focus, the flourishing of love all around them SPOILER: her mom, Will, Jilly, is really sweet and a nice metaphor for the gentle re-entry of love into Louna's life. It is both heartwarming and deeply satisfying to see someone open themselves up to love again after an experience that hurt them so much. Dessen displays due caution and slowly embraces the possibility of Louna letting love in again with delicacy and charm.
What I didn't love however was the rather contrived nature of the plot at times. There were moments of Once and For All that felt a little below the usual standard of a Dessen novel. The bet between Ambrose and Louna was so transparent; I can't help but feel a coin toss would have given the same results. The purpose may been to have them experience each other's life-styles, but neither of them enjoyed it at all and it didn't seem to really bring them anything in terms or personal growth in my opinion… All in all, I was willing to check my incredulity at the bet and still enjoy the book though.
Final Thoughts
Really enjoyed the characters names in this novel. Not sure if I'm pronouncing Louna's name right (I think it is still said Luna even with the different spelling), but I love the backstory of her name. Also, Ambrose is such a classy name, but also quite rare, it takes a special kind of character to pull it off. Jilly is a cutesy name for someone so adult-like in terms of the way she cares for her siblings, and KitKat is just about the most adorable twin nickname ever! Well done Dessen!
What are some of your favourite character name choices? Let me know in the comments!