The Evaporation of Sofi Snow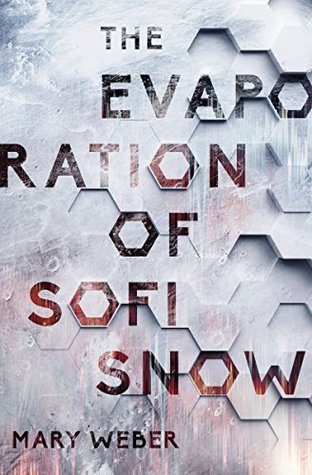 The Evaporation of Sofi Snow by Mary Weber
Thomas Nelson
275
June 06, 2017
The Evaporation of Sofi Snow 1 (Book 1/2)
Ever since the Delonese arrived, Sofi's dreams have been vivid. Alien. As an online gamer, Sofi battles behind the scenes of Earth's Fantasy Fighting arena where her brother Shilo competes in a mix of real and virtual blood sport. When a bomb goes off, Sofi's the only one who believes Shilo survived. And she's convinced he's been taken. Except no one but ambassadors are allowed to go to the planet of Delon. For Miguel, the games are different. As Ambassador to the Delonese, his career has been built on trading secrets and seduction. But after the bomb he becomes a target for blackmail. The game is simple, help the blackmailers, or lose more than anyone can fathom.
Adapted from: GoodReads
---
A truly absorbing read, this sci-fi YA novel will peak any reader's interest. This is a fast-paced read that sadly ends with a massive cliffhanger - you have been warned, read with caution.
Note: This review is based on an advanced text of The Evaporation of Sofi Snow by Mary Weber.
Book Breakdown
The Evaporation of Sofi Snow is a post-apocalyptic sci-fi novel that starts like Ender's game meets the Hunger Games and becomes Ender's Games meets V for Vendetta. What starts out as a game is revealed to have much deeper and more serious roots…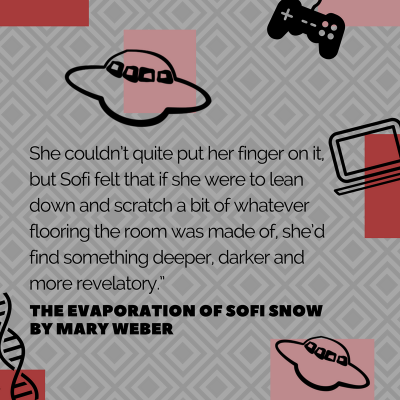 The story alternates point of views between Sofi and Miguel for two parallel stories for the first half of the books and two interesting perspectives on the plot from the time when their stories finally become intertwined.
Sofi is a total badass, depicted right off the bat as an incredibly caring, very smart and talented, sexually liberated, young woman in control of her own life despite her mother's calculating use of her children. Her character throughout the book is enjoyable for the sarcasm and strength as well as the moments of vulnerability. Her M.O. is to rescue her brother, distrust the Delonese, and do it all to an awesome soundtrack.
Miguel on the other hand is politically plugged in. A handsome, smooth-talker, he learned from a young age how to observe and manipulate people and does so shamelessly. His M.O. appears to be to play both sides of the game, charm the Delonese but also keep an eye on curious happenings involving them. Also, win back his one true love, Sofi!
Though they are very different, Miguel and Sofi are strong characters with good chemistry. Also, both Miguel and Sofi are people of colour, and it's always nice to see diverse characters in YA literature! The inclusion of Spanish words throughout Miguel's dialogue and stream of consciousness was really neat too!
The plot has lots of interesting twists moving from childhood to teen physical and virtual gaming, from a bomb to fake deaths, from hacking to traveling to another planet, from peace-keeping to investigating – this book moves FAST!
In my Opinion
Initially, I was excited about the game aspect of the novel, that ended pretty quickly and though I am not usually "into" aliens, I found this novel to be an interesting spin on the common concept of alien abduction.
The story is well told from the dual perspectives of Miguel and Sofi. I really liked that we started with two parallel narratives that eventually merged into one. I didn't love how short some of the sections were, swapping between Sofi and Miguel sometimes happened so quickly that the story felt choppy.
Overall, the characters were solid, with the exception of Heller whose thinly veiled crush on Sofi was just an annoying trait that really went nowhere and added nothing to the plot; he would have been better just as a caring friend.
To tell the absolute truth I quite enjoyed this novel, the pacing, the plot, the characters were all satisfactory, but what was completely unsatisfactory was the ending. I understand the power of a good cliffhanger, but this was a complete severance of a story! There was no denouement, no closure of any sort for the reader, when I got to the end I was jarred, I was looking for more to read because I could not comprehend the choice to end the novel at the point that was chosen. It just seems really cruel to leave the reader hanging like that SPOILER: with Sofi and Miguel unsafe on Delon, Shilo still missing and, Sofi suddenly remembering her own previous visit to the ice planet, it's just too much to leave wide open. Personally, I find it a cheap trick when authors resort to cutting off a novel rather than actually winding it down and giving it a proper close. Even with a cliffhanger there can be some closure, and that was entirely lacking in the Evaporation of Sofi Snow.
Also, in the entire novel, there is one mention just one of "evaporating" but no explanation of what it is. This was rather frustrating; for a concept to be in the title you would think it would be clearly explained – but no.
Final Thoughts
This was a good book, really, except for the ending. Novels that end abruptly without any sort of warning or wind down are a pet peeve of mine. I think a good writer should be able to use cliffhangers and still respect their readers and their story enough to gently bring things to a close while still leaving the door open a crack for the purpose of baiting their curiosity. This novel leaves the door wide open but then builds a wall in front of it - nothing can be known until the sequel comes out and that's not really fair.
What are your literary pet peeves - specifically in terms of YA novels?